27 officials punished over Chinese cross-country marathon event at which 21 people died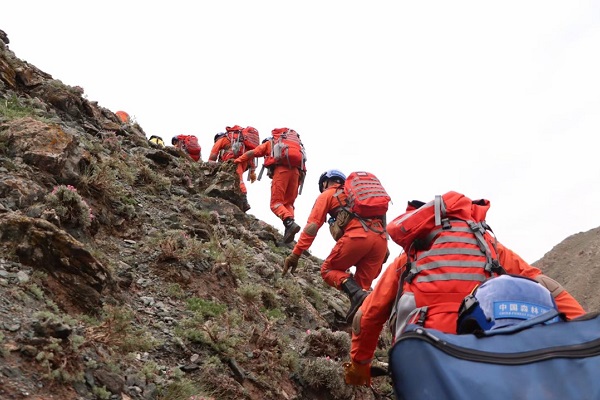 China authorities have reportedly punished 27 government officials deemed responsible for the deaths of 21 people during a mountain marathon cross-country race last month.
The deaths occurred when hail, freezing rain and gales descended on a high-altitude section of the Yellow River Stone Forest cross-country mountain race - in which 172 people took part - in the north-western province of Gansu.
With the deaths attributed by investigators to hypothermia as a result of the extreme weather, as well as unprofessional organisation and operation, punishments imposed on officials included major demerit ratings and disciplinary warnings
The head of the Jingtai local government area, where the race was held, was dismissed from her post.
Other organisers held accountable included the mayor of the city of Baiyin, to which the jurisdiction of Jingtai belongs.
A search-and-rescue effort was initiated when it became clear that runners were missing, with over 1,200 rescuers dispatched, assisted by thermal-imaging drones, radar detectors and demolition equipment, according to state media.
Among those confirmed dead was ultramarathon champion Liang Jing and Huang Guanjun, who won the hearing-impaired class in China's 2019 National Paralympic Games marathon.
China's sport administration said last week it was suspending all high-risk sports events that lack a supervisory body, established rules and clear safety standards.
The activities halted include mountain and desert trail sports, wingsuit flying and ultra-long distance running.
Li Zuobi, the Jingtai county party chief, died near his apartment building on 9th June, Chinese state media reported, adding that the authorities have ruled out homicide while Li's death was still being investigated.
With Reuters
Image: Rescue team members search for victims of the Yellow River Stone Forest cross-country mountain race in the Chinese province of Gansu last month. Credit: Xinhua.
Related Articles
24th May 2021 - 21 participants die in extreme weather during China mountain marathon race
8th December 2020 - 'Hybrid' 2020 Standard Chartered Singapore Marathon 2020 welcomes 12,000 participants
11th November 2020 - Mass participation sporting event sector facing 'mass extinction'
7th July 2020 - World Athletics looks to broaden mass participation reach
27th March 2020 - Wanda to sell Ironman for US$730 million
12th February 2020 - Coronavirus continues to impact China's sports events
9th November 2019 - Mass Participation World Conference expands with new awards program
21st September 2019 - Toughest team endurance competition set for Australian return
2nd September 2019 - Chinese Government looks at new initiatives to decentralise sports industries
26th April 2019 - New IAAF rankings generate surge of interest in Oceania Area Marathon Championships
5th September 2018 - China plans to use sporting events to boost remote regions
25th July 2017 - China looks to expand leisure sectors to U$$130 billion by 2020
5th July 2017 - Wanda Group launches poverty alleviation project in China's Danzhai region
27th April 2017 - Dalian Wanda adds the world's major marathon events to its sporting portfolio
27th February 2017 - Mass Participation Asia organiser shares framework to managing postponed and cancelled events
28th November 2016 - China's plan to massively expand its sports industry
11th September 2015 - Dalian Wanda buys Ironman triathlon group for US$650 million
30th May 2014 - Kimberley ultramarathon burns victim earns multi-million dollar settlement
24th October 2012 - Inquiry blasts organiser of disastrous Kimberley ultramarathon
17th June 2010 - China's First outdoor pursuits exhibition