Wavegarden facility shows therapeutic benefits of surfing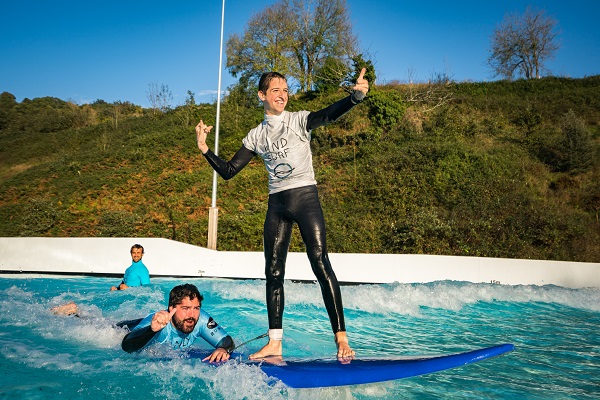 Wavegarden, developers of revolutionary artificial surf wave technology, have recently demonstrated the therapeutic benefits of surfing for groups of young people who face physical and mental challenges.
The technology, used at Melbourne attraction URBNSURF, was developed at a facility in Spain's Basque region, where local pro surfer Aritz Aranburu partnered in 2012, with Almudena Fernandez and some close friends to create 'Kind Surfers' a non-profit organisation dedicated to taking disadvantaged children and young adults surfing.
Aranburu explained "getting the kids into the water and on to waves has a super positive effect on their outlook, it's a form of therapy.
"We organise sessions at my surf school in Zarautz twice a week (and) as soon as they get in the water, their faces light up with huge smiles."
With Kind Surfers now teaming up with Wavegarden, Aranburu advised "when they saw the first waves roll through, they didn't ask how it was possible to have waves breaking amongst the mountains, they just ran into the water."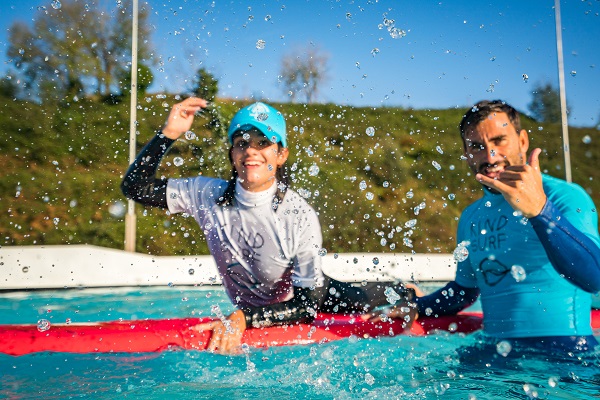 As well as being committed to expanding access to the widespread benefits of surfing, Aranburu is passionate about promoting the positive impact, both physical and mental, that surfing can provide.
Over the past few decades, sports scientists have started researching water-based healthcare and the findings are positive. The International Surf Therapy Organization - a global community of practitioners and researchers who collaborate to advance the use of surf therapy for healing - is a leader in this field with publications covering a wide range of topics including how surfing can improve the social skills of autistic children through to how surfing can help war veterans with post-traumatic stress disorder.
Similarly, John S Payne, mental health expert and author of 'What My Eyes Have Seen', agrees that there is a significant potential for healing by riding waves, stating "surfing is a whole-body experience, the feeling of the water washing over your body, the mindfulness of sitting on your board looking for a potential wave. It brings you into the 'now', taking your thoughts away from anything else and adding to your quality of life."
Over the years, Wavegarden's engineers, architects and designers have worked tirelessly to ensure that every aspect of their technology is accessible and safe for all.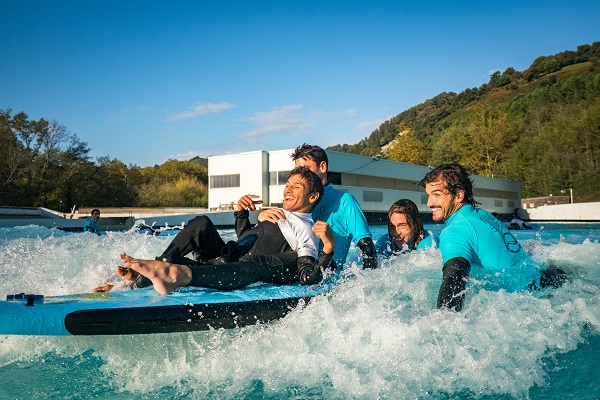 Adaptive surfers like Aitor Francesena, who is blind; Iñigo Hermoso and Urtzi Urrutia with Down syndrome, and amputees Eric Dargent and Benoit Moreau have surfed at Wavegarden's headquarters and validate the quality of the waves and safety of the lagoon.
Beyond the Wavegarden's demonstration site, considerable progress is being made at the public Wavegarden facilities in the UK and Australia.
Opening last October, The Wave Bristol became the world's first public Wavegarden Cove and features inclusion as a fundamental value of its business with founder Nick Hounsfield having made sure that the plans catered for people with disabilities - from access through to amenities and tuition. Easy-access ramps, dedicated changing rooms and fully trained coaches make it possible for everyone, regardless of ability or experience, to get in the water and ride waves.
In Perth, non-profit organisation Ocean Heroes - whose objective is to share the thrill and wonder of surfing to enable them to build self-belief in a supportive and fun environment - has organised surf sessions for over 3000 children with autism.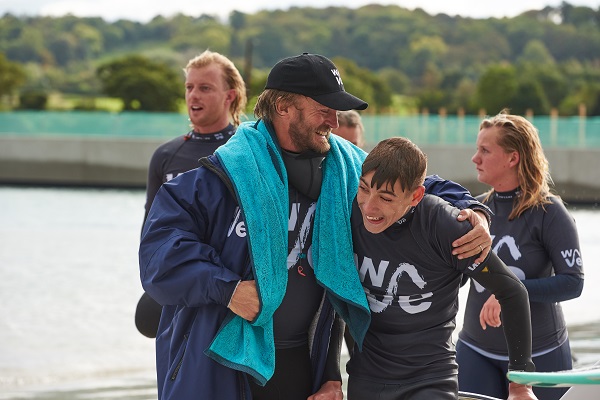 Ocean Heroes co-founder, Luke Hallam explains "there's a demographic of our society that miss out on going surfing through no fault of their own, although they are physically capable to do so."
One recent Ocean Heroes initiative involved riding waves at URBNSURF Melbourne, the second public Wavegarden Cove, which opened in January 2020.
At Wavegarden's Spanish headquarters, founder and Chief Executive, Josema Odriozola, adds "I am proud of the work our team and our partners are doing to improve access for adaptive surfers.
"There are many organisations doing inspiring work in surf therapy and I am pleased to know that Wavegarden can play a key role in offering a safe and controlled environment for all surfers."
Work on new Wavegarden facilities is currently underway in Brazil, South Korea and Switzerland.
Click here to contact Wavegarden via their entry in the Australasian Leisure Management Supplier Directory.
Images: The KindSurf initiative at Wavegarden's facility in Spain's Basque region and (below) The Wave Bristol.
Related Articles
9th September 2020 - Gold Coast inspires through their delivery of Surf Life Saving inclusivity
19th June 2020 - Wavegarden looks to future delivery of surf parks around the world
13th March 2020 - URBNSURF event limits spectators based on advice regarding Coronavirus
2nd March 2020 - Surfing Victoria to host URBNSURF wave pool event
13th January 2020 - Melbourne's new URBNSURF attraction to feature at AIME 2020
10th January 2020 - URBNSURF artificial wave park opens in Melbourne
19th December 2019 - URBNSURF Melbourne starts pre-opening media campaign
4th December 2019 - URBNSURF Melbourne partners with Surfing Victoria
14th November 2019 - URBNSURF Melbourne to open in January
8th May 2019 - Construction commences on South Korean Wavegarden Cove attraction
22nd January 2014 - Wavegarden technology to revolutionise artificial surfing