Australia announced as 'preferred candidate' to host Rugby World Cup 2027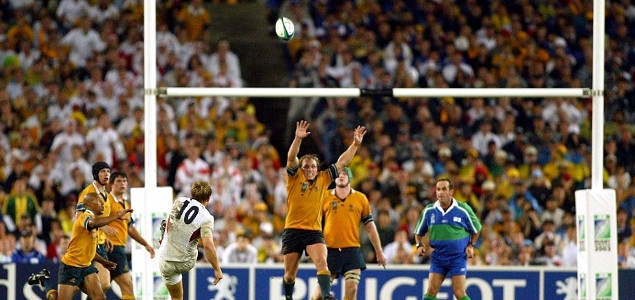 World Rugby has announced Australia as its 'preferred candidate' to stage Rugby World Cup 2027, with the World Rugby Council overnight accepted a recommendation from the Rugby World Cup Limited Board to work exclusively with Australia on a hosting model for the event.
Australia, which had long been a front runner to host the event, saw off an emerging bid from the USA to host the tournament in six years' time. However, following the overnight meeting, the USA is now positioned to host the 2031 edition.
Welcoming the news, Rugby Australia Chairman, Hamish McLennan stated "this is a huge step forward in our ambitions to host Rugby World Cup 2027 and for rebooting the game in Australia.
"Throughout this process, we've held the genuine belief the time was right to bring the Rugby World Cup back to our shores.
"The team at Rugby Australia have worked hard on this for a number of years and today's announcement is great reward for those efforts."
Earlier this month McLennan had suggested that Australia's hosting of the tournament would help bridge the widening 'north-south' financial divide in the game, going on to suggest that leading hosting the World Cup and a British & Irish Lions tour in 2025 might tempt rugby league players to switch codes.
Following the 'preferred candidate' announcement, McLennan went on to say "thanks to the support of the Federal Government and strong engagement of our State and Territory Governments, we've been able to get to a position where we can demonstrate to World Rugby that we're a safe pair of hands and the obvious choice to host RWC 2027.
"This is a once-in-a-generation opportunity and we're now closer than ever before to making that dream a reality. Game On for Australia 2027."
The 2023 Rugby World Cup is being held in France.
Australia last hosted the Rugby World Cup in 2003.
World Rugby rule change to allow players to switch national teams
World Rugby has also approved a landmark change to its eligibility laws which will allow players to switch Test nations.
In a move that will significantly bolster developing countries in time for the 2023 World Cup, players who meet the criteria will be able to change nations from January.
Players are eligible to switch nations if they have been stood down for three years - in other words, not been selected for 36 months - and if they, or a parent or grandparent, were born in the country they wish to represent.
Pacific Islands nations are among those teams poised to most reap the rewards with a large number of players from the region currently playing for New Zealand, Australia and European nations.
The motion was backed by the World Rugby Council after sustained lobbying from the World Rugby Chairman, Bill Beaumont, who had pledged to make changes as part of his manifesto for re-election.
Image: Jonny Wilkinson kicks the winning points as England beat Australia in the 2003 Rugby World Cup Final at Sydney's Stadium Australia.
Related Articles
23rd November 2021 - Rugby Australia outsources community development programs to DMC Sport
15th October 2021 - 2022 HSBC World Rugby Sevens Series schedule unveiled
1st September 2021 - Fijian Drua and Moana Pasifika to join Super Rugby Pacific competition for 2022
24th August 2021 - SANZAAR to host Rugby Championships series in Queensland
22nd August 2021 - World Rugby's Katie Sadleir named new Chief Executive at the Commonwealth Games Federation
28th June 2021 - Rugby Australia welcomes PacificAus Sports funding to support Fiji Rugby Union
27th June 2021 - Rugby tournament prepares athletes for Tokyo Olympics Games
15th June 2021 - Environment groups object to New Zealand Rugby's oil company sponsorship deal
7th June 2021 - Fiji Rugby partners with Nike as official team and training kit supplier
1st June 2021 - New Zealand Rugby appoints new Chair and Deputy
20th May 2021 - Rugby Australia launches bid to host 2027 Rugby World Cup
13th May 2021 - Rugby Australia announces Cadbury as new principal partner
12th May 2021 - New dates announced for Women's Rugby World Cup in New Zealand
10th May 2021 - Artists question record-breaking crowd for Brisbane's Super Rugby AU final
1st May 2021 - Hong Kong Rugby Union 'confident' that 2021 World Rugby Sevens Series will run with capacity crowds
29th April 2021 - COVID impact sees Rugby Australia reveal $27.1 million loss for 2020
26th April 2021 - Preparing for Finals 2021 Super Rugby AU season broadcast ratings rise 144%
16th April 2021 - Super Rugby announces granting of conditional licences for Moana Pasifika and Fijian Drua
12th April 2021 - Rugby Australia launches new Digital Coaching Hub
26th March 2021 - World Rugby to back Super Rugby involvement of two Pacific Island teams
19th March 2021 - World Rugby confirms Alan Gilpin in Chief Executive role
17th March 2021 - World Rugby unveils global women's competition calendar with annual WXV competition
10th March 2021 - World Rugby confirms postponement of this year's women's World Cup to 2022
29th January 2021 - Vote sees Rugby Australia revert to 1991 colours for Wallabies jersey
23rd December 2020 - Rugby Australia appoints SANZAAR's Andy Marinos as new Chief Executive
13th November 2020 - Rugby Australia and New Zealand Rugby announce domestic and trans-Tasman tournaments for 2021
31st October 2020 - Federal Government backs Australian Rugby World Cup hosting bid with further $8.8 million funding
5th August 2020 - Phil Kearns appointed Executive Director of Australia's Rugby World Cup 2027 bid
23rd November 2019 - Rugby World Cup drives enhanced global fan interest for the first time since 2007
21st September 2019 - Competition opening sees Japan looking to stage 'best-ever' Rugby World Cup
2nd May 2019 - Australian Government supports scoping work ahead of potential 2027 Rugby World Cup bid
7th February 2019 - 2019 Rugby World Cup approaches sell-out