Wibit Sports founders share highlights as they celebrate 25th anniversary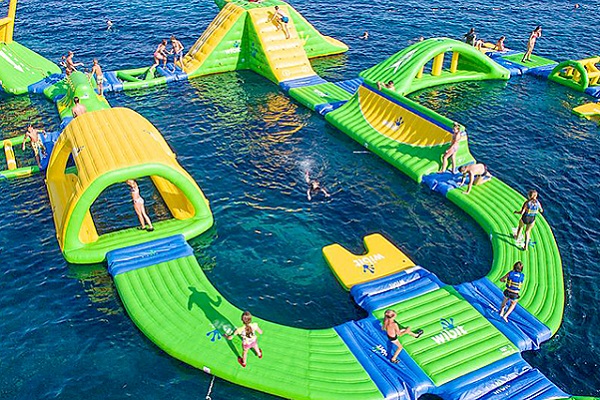 The founders of leading inflatable water play products company, Wibit Sports - Romann Rademacher and Robert Cirjak share some of their journey to mark the company's 25th anniversary.
25 years ago, Rademacher and Cirjak "jumped from the green soccer field right into the blue water". They have enjoyed this move and never looked back. For them, creating an industry and millions of smiles in over 100 countries has been an incredible ride.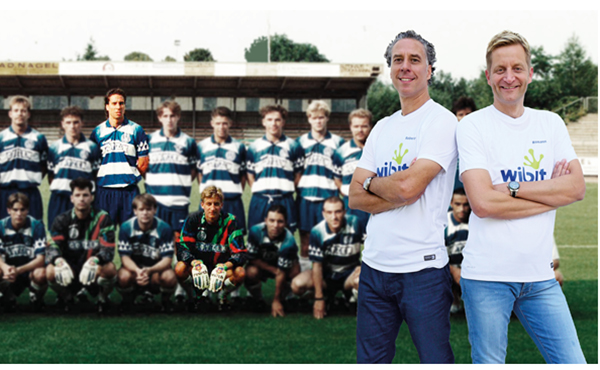 The German goalkeeper and the Canadian striker met in 1996 at MSV Duisburg and became instant friends. Sharing the same passion for all kinds of sports, they came across the first water trampoline in a watersport magazine. In 1996 they founded the Aqua Toys Trading GmbH to distribute this completely new water product to Europe.
The trained industrial manager and the physical therapist soon discovered the full potential of the product and water as their new playing field. Loaded with a bunch of their own ideas they started sourcing their own manufacturers, dreaming to change the way people play on water. That dream has been more than fulfilled.
Over the years, Wibit has transformed its portfolio from single products to whole SportsPark combinations and focuses on their most important innovation: modularity.
Rademacher, Chief Executive of Wibit Sports advises "thanks to this attribute, we are able to build floating playgrounds in any size and shape, and for any body of water. This gives us the opportunity to customise every single layout and adapt it perfectly to each individual customer or location."
The sportive company is constantly looking for innovation. A real game-changer was WibitTAG, a special configuration of the modules allowing to form words, numbers, or logos readable from above. Thanks to this unique system, the floating fun islands can even become an outstanding way of communication, to be found already in the Guinness World Records (INDONESIA TAG, 2019).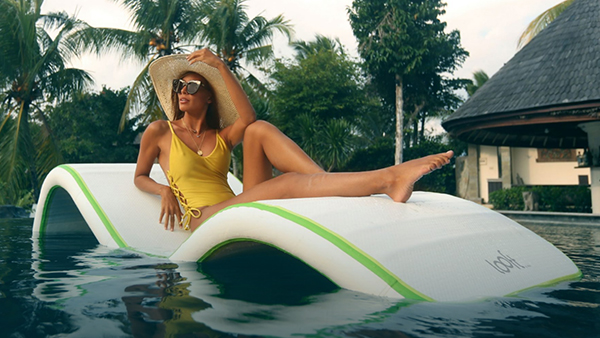 Wibit even came up with a completely new brand: LOOFT represents high class floating water furniture for premium hotels, resorts, or other commercial beach operators.
Wibit Sports now celebrates its 25th anniversary and continuing success with its floating water playgrounds.
Robert Cirjak Wibit President notes "Covid-19 was a major setback in our company history. Due to our global distribution, we were hit hard by the virus and its effects on the tourism and leisure industries. Since this year we are back on track though and have lots of huge plans for 2022 already."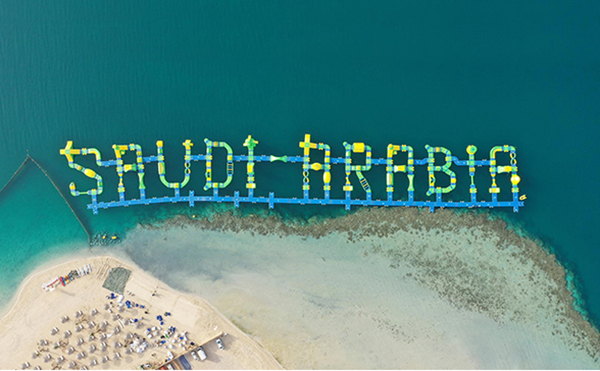 Just recently Wibit broke its own record and installed the 195m x 32m large SAUDI-ARABIA TAG, now the biggest floating water park in the world.
Click here to contact Wibit Sports via their entry in the Australasian Leisure Management Supplier Directory.
For more information on LOOFT go to looft.world/
Images from top: Wibit Sports 2019 installation for the Aqua Dreamland attraction in Bali's Secret Bay was acknowledged by Guinness World Records as the planet's 'Largest Inflatable Aqua Park'; Wibit founders Romann Rademacher and Robert Cirjak; LOOFT high class floating water furniture; Wibit's SAUDI-ARABIA TAG
Related Articles
6th September 2021 - Wibit installs world's largest inflatable aquatic play park in Saudi Arabia
3rd August 2021 - Wibit innovates with floating furniture and neoprene face mask for aquatic environments
11th October 2019 - Wibit aqua park in Bali recognised as world's largest
28th February 2019 - Wibit releases 20 new products and expanded Kids range
20th June 2018 - Wibit equips world's first Ninja Warrior Aqua Park
17th March 2017 - Sydney to get its first WIBIT aqua park
8th February 2017 - Wibit Sports marks 20 years of operations
16th December 2016 - New Wibit aquatic playground promotes Dubai tourism at landmark beach
24th May 2016 - Wibit Sports offers marketing opportunities on water
9th May 2015 - Wibit enforces intellectual property with legal action against counterfeit inflatables
24th March 2015 - Wibit launch new aquatic inflatables, emphasising quality and safety standards
12th September 2014 - Wibit's new range brings pools of all depths and sizes to life
5th May 2014 - World's largest Wibit Sports playground opens in Dubai
31st October 2013 - Massive Wibit Sports installation to open on the Gold Coast Broadwater
15th February 2011 - Wibit takes a lead on open water inflatables
22nd February 2010 - Wibit Park boost for aquatic income