ProSlide unveils game-changing KidzADVENTURE Tower at Dubai's Atlantis Aquaventure
ProSlide Technology Inc., one of the world's leading water ride design, technology and manufacturing businesses, has released details of new attraction under its WaterKINGDOM suite of family attractions - the KidzADVENTURE Tower.
Comprised of a customisable suite of ProSlide waterslides anchored onto a single, dedicated structure, the KidzADVENTURE Tower (KAT) is an innovative and radical addition to WaterKINGDOM that made its debut earlier this month as part of the much anticipated waterpark expansion at Atlantis Aquaventure in Dubai.
Located in Atlantis Aquaventure's Splasher's Cove family area, ProSlide's Chief Commercial Officer, Ray Smegal advises that the KAT takes inspiration from ProSlide's expansive collection of iconic water rides, commenting "it's a culmination of ProSlide's 35 years of expert water ride design.
"We've combined the thrills of our iconic adult rides along with the safety and design of our groundbreaking KIDZ rides to create a truly innovative attraction that is unlike anything else in the market."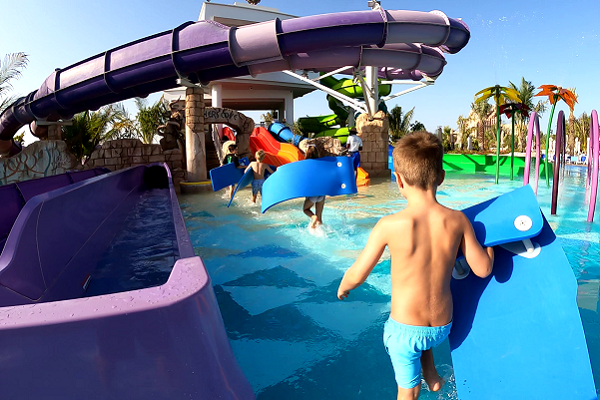 The rides featured on the KAT are a unique addition to ProSlide's stable of rides in that they're smaller than the traditional adult rides, but larger than the company's KIDZ rides.
World-renowned names like the KIDZ PIPEline, KIDZ ProRACER®, KIDZ BOWL, and the brand-new KIDZ RallyRACER are purposefully redesigned to be larger and suit the unique demographics of the KAT's riders.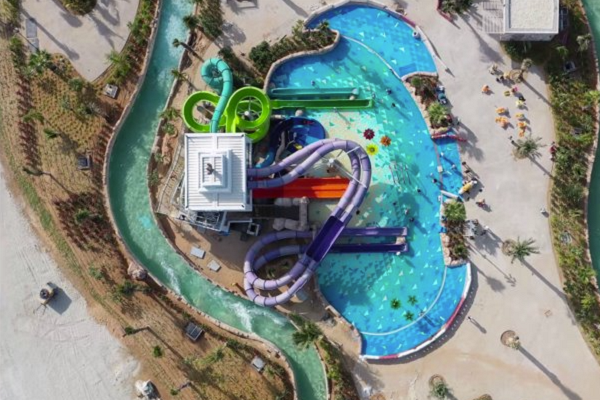 Noting that these size distinctions make the KAT an independent attraction, while also being an integral part of ProSlide's 'graduated ride experience', ProSlide Director, Product Line Management and R&D, Greg White adds "in the WaterKINGDOM space, a key factor in the product design process is to build a 'graduated' experience for young riders to aspire toward a more advanced ride as they age and grow confidence.
"For riders looking for something more thrilling and challenging than our KIDZ rides, but not yet ready for our adult rides, the KAT is the perfect addition to any park."
Click here to contact ProSlide Technology via their entry in the Australasian Leisure Management Supplier Directory.
Images: ProSlide's KidzADVENTURE Tower at Atlantis Aquaventure in Dubai.
Related Articles
12th March 2021 - Expanded Atlantis Aquaventure Dubai waterpark features ProSlide ride innovations
14th February 2021 - Asia's theme parks undergo development of new attractions
4th February 2021 - ProSlide launches new website showcasing 35 years of innovations
30th September 2020 - Women-only waterpark opened in Saudi Arabia
20th May 2020 - Newspaper reports that plans for Sunshine Coast's Actventure waterpark and resort are 'expected to be finalised in coming weeks'
31st January 2020 - ProSlide to showcase water ride innovation at Saudi Entertainment and Amusement Show 2020
3rd January 2020 - Sun Group opens world-class waterpark off Vietnam's south coast
27th May 2019 - World's busiest waterparks see ongoing attendance rise
24th May 2019 - New rides to open as part of expansion of Dubai's Atlantis Aquaventure
5th March 2019 - Ambitious plans revealed for $100 million Melbourne waterpark
8th July 2018 - 2018 World's Largest Swimming Lesson involves more than 700 waterparks, pools and swim schools
29th June 2015 - Theme parks in Dubai set to attract revenues close to US$5 billion by 2020
30th April 2015 - ProSlide opens Asian office in Shanghai
5th May 2014 - Proslide comments on successful Wet'n'Wild Sydney installations
18th February 2014 - Atlantis The Palm reopens revamped ShuiQi Spa
16th June 2013 - Global innovations to be unveiled at Dubai's Aquaventure Waterpark
24th February 2013 - ProSlide delivers anchor attractions to Yas Waterworld Abu Dhabi