Polin Waterparks celebrates its inaugural Virtual Award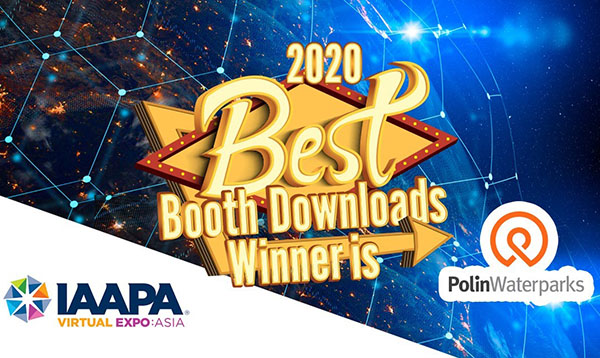 Polin Waterparks is celebrating its inaugural Virtual Award for exceptional virtual booth design and digital content at The International Association of Amusement Parks and Attractions (IAAPA) Virtual Expo Asia 2020.
IAAPA, having closely monitored the COVID-19 situation since early January, chose to postpone IAAPA Expo Asia 2020 to 2021 and offered an alternative way to connect, network and discover IAAPA engaged digitally with IAAPA Virtual Expo: Asia!
During IAAPA Virtual Expo: Asia attendees voted for virtual booth innovations in three categories: Best Booth Downloads, Best Booth Videos and Most Engaging Chat Room.
Polin Waterparks Director of Marketing & Communications, Sohret Pakis advised "our vision as one of the leading companies in our industry is to serve our industry and stay connected. During these unprecedented times, IAAPA Virtual Expo has been a wonderful opportunity to stay connected with our industry. Just as importantly as fulfilling business commitments, we stayed connected thanks to this first ever virtual expo of our industry.
"Together with our attractions community, we revolutionised how we network and how we work and how we serve our community. The Polin team love what we do and we believe that our industry brings happiness to our World. It's an honour to be recognised for our efforts by this award. Grateful! And congratulations to all winners and to all who have been a part of this first virtual expo of IAAPA."
Over an immersive, three day experience, attendees had a chance to visit the virtual trade show floor, meet with colleagues and professionals at the digital networking lounges and learn best practices and trends during the virtual education sessions.
The IAAPA Virtual Expo: Asia was attended by more than 4,000 participants, featured 131 companies on the virtual trade show floor, and was widely followed online and on social media. During IAAPA Virtual Expo: Asia, global attractions industry professionals took part in a diverse, international exhibit hall with eight unique pavilions, nine education sessions, and seven IAAPA networking events.
Click here to contact Polin Waterparks Australia and New Zealand/Swimplex Aquatics via their entry in the Australasian Leisure Management Supplier Directory.
Related Articles
3rd August 2020 - Inaugural IAAPA Virtual Expo attracts more than 4,000 international participants
14th July 2020 - IAAPA outlines COVID-19 safety protocols for parks and guests as attractions reopen  
19th April 2020 - IAAPA shares insights from industry leaders on how Asia-Pacific Attractions have adapted to COVID-19
28th March 2020 - IAAPA reveals recommendations for closing and reopening theme parks impacted by COVID-19
10th March 2020 - IAAPA Expo Asia 2020 cancelled over Coronavirus concerns
16th May 2020 - Polin Waterparks launch new image recognition technology
31st January 2020 - Polin Waterparks launch world's largest Bowl water slide
13th December 2019 - Christchurch Metro Sports Facility to feature Polin Looping Rocket hydroslide
14th August 2019 - Ian Coombes Limited to distribute Polin Waterparks products in New Zealand
29th January 2019 - Swimplex and Polin equip Fairfield City Council's expanded Aquatopia
12th December 2018 - Polin introduces world first fully transparent Composites Waterslide