New company launched to develop mountain tourism in Saudi Arabia's Asir region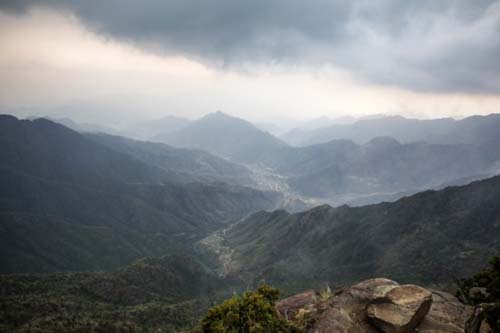 The Soudah Development Company has been launched to develop Al-Soudah, and parts of Rijal Al-Ma`a Governorate in the Asir region of Saudi Arabia, to be a world-class mountain tourist destination, providing immersive cultural experiences and celebrating the area's natural assets.
Launched to be a key driver of Saudi Arabia's Vision 2030 ambitions, Soudah Development Company (SDC), fully owned by the Public Investment Fund (PIF), will lead the development of the luxury mountain destination and infuse US$3 billion into infrastructure and tourism projects.
The planned developments include 2,700 hotel rooms, 1,300 residential units, and 30 unique commercial and entertainment attractions. SDC aims to develop the project area into a repeat, year-long sustainable destination for residents and visitors that will contribute an estimate of USD 8 billion to the Kingdom's cumulative GDP by 2030. SDC intends to partner with the local community and investors to build a robust and diverse network of offerings across the hospitality, residential, commercial and entertainment sectors. It aims to attract over 2 million visitors annually and create 8,000 direct and indirect permanent jobs by 2030.
HE Yasir Othman Al-Rumayyan, Governor for the Public Investment Fund notes "our investment in the Asir region reflects our confidence in the character of the location, which is a rich amalgamation of identity, heritage and experience. Through careful and considerate development, SDC will provide yet another remarkable destination in the diverse and growing portfolio of Saudi Arabia's experiences capturing the imagination of a broad range of investors and travellers."
The Public Investment Fund (PIF) will inject at least US% 40 billion a year into the local economy and aims to grow assets under management to over US%2 trillion by 2030.
The destination adds another dimension to Saudi Arabia's ambitious tourism goals and complements destinations being created on the Red Sea coast and around the capital city of Riyadh.
SDC aims to create a roadmap to transform the region's vast public areas to highlight the region's distinct culture, geography and its verdant nature. Preserving the environmental integrity of the destination will be a priority and the development will follow a rigorous regulatory framework and urban planning code.
For more information on The Soudah Development Company go to soudah.sa/
Related Articles
1st February 2021 - Formula E confirms Saudi Arabian start with Asian legs postponed in part schedule for 2021 race series
29th November 2020 - Technogym secures agreement to supply equipment for 138 clubs and 70 new openings in Saudi Arabia
5th November 2020 - Saudi Arabia to host first F1 Grand Prix in 2021
30th September 2020 - Women-only waterpark opened in Saudi Arabia
28th April 2020 - Saudi Arabian investment fund acquires 5.7% stake in Live Nation
23rd April 2020 - Qatar and Saudi Arabia enter rival bids to host 2030 Asian Games
11th March 2020 - STRI constructs ambitious and sustainable turf racetrack in Saudi Arabia
3rd March 2020 - Saudi Arabian sustainable development appoints Foster + Partners as Architectural Advisors
25th February 2020 - Saudi Arabia commences construction on NEOM
4th February 2020 - Golf Saudi advances regional strategy with support from STRI
3rd January 2020 - New research shows increasing tourist interest in visiting Saudi Arabia
6th October 2019 - Open space and cultural projects aim to transform Saudi Arabian capital
27th September 2019 - Saudi Arabia looks to open up to non-Muslim international tourists
1st July 2019 - Masterplan revealed for Saudi Arabia's entertainment and sport city giga-project