Live Nation announces further Asia Pacific expansion with appointments of experienced leaders Guy Ngata and Richard Tsuchida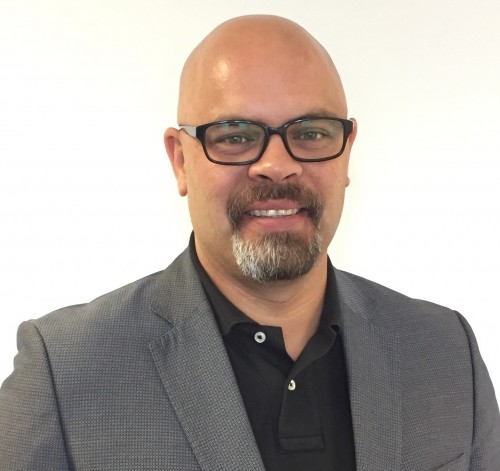 Global live entertainment leader Live Nation has today announced two key appointments to drive its expansion in Australasia and the Asia-Pacific, with Guy Ngata named Senior Vice President - Venue Development Australia and New Zealand and Richard Tsuchida as Venue Director Japan.
Each will lead the company's venue development efforts in key markets, continuing to grow Live Nation's worlwide portfolio of 200 venues.
In their roles, Ngata (pictured above) will report to Roger Field, President of Live Nation Asia Pacific, with Tsuchida responsible to Kei Ikuta, Managing Director of Live Nation Japan, while working closely alongside Greg Gillin, Senior Vice President Venue Development for Asia, to expand the company's venue portfolio, through the establishment of clubs, theatres, and arenas in the APAC region.
Live Nation's changes have also seen Mark Graham, currently Vice President of Venue Development, promoted to a new role, Senior Vice President Venue Mobilisation and Operations APAC, responsible for the operational rollout and the advancement and sustainability of the venues in the market.
With a wealth of global venue experience, Ngata was most recently Chief Executive of the Coca-Cola Arena in Dubai for ASM Global, with previous posts in Shanghai at the Mercedes-Benz Arena and tenures in Sydney at the All-Phones Arena (currently Qudos Bank Arena) along with both Spark Arena and Eden Park in his hometown of Auckland.
Tsuchida's impressive background and experience are predominantly in commercial real estate that extends across Japan. He has recently held real estate business development positions for global brands Gucci, H&M, and CBRE. Fully bilingual in English and Japanese, Tsuchida is also conversational in Mandarin, having spent a year living in Beijing, and is a key hire illustrating Live Nation's commitment to developing local venue talent across the region.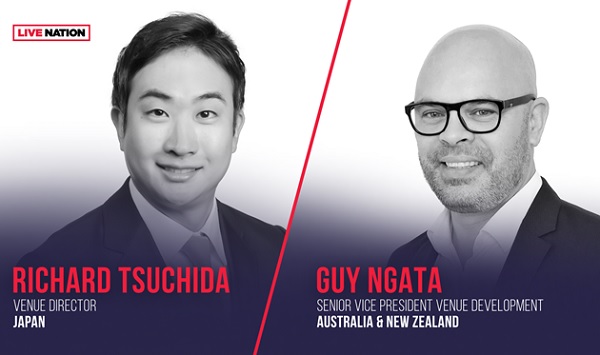 Commenting on appointments, Field stated "a huge welcome to Guy and Richard to the Live Nation family. With several existing projects in the pipeline, their combined experience and knowledge will greatly enhance our existing venue team to propel and drive our venue development strategy to the next level, with the most compelling proposition for venue construction, operations, and management throughout the Asia Pacific."
Ngata is tasked with building Live Nation's venue portfolio across Australia and New Zealand and will lead the company's tenders and bids for upcoming arena projects in Australia. With their industry-leading and local expertise, the team will develop the next generation, state-of-the-art world-leading venues.
Priorities include the Brisbane Arena tender ahead of the Brisbane 2032 Olympic Games, which will see Live Nation partner with Oak View Group (OVG), the global venue development, advisory, and investment company for the sports and live entertainment industries, and Plenary Group, Australia's leading independent long-term investor, developer, and manager of public infrastructure.
Looking forward to his new role Ngata advised "Live Nation is a world-class venue operator with a proven track record of establishing industry-leading venues that artists and fans love, and I'm thrilled to be joining at a time of immense opportunity and growth.
"I look forward to working with the team in continuing Live Nation's mission to deliver a new standard for venues with world-class hospitality and state-of-the-art technology, as well as the best live entertainment content pipeline for fans to enjoy."
Live Nation's venue design principles focus on the following pillars: Connecting Fans and Artists, Environmentally Friendly, Enhanced Artist Experience, Enhanced Fan Experience, Community Engagement, Technology Enabled, and Maximising Content Opportunities.
Live Nation's current portfolio of venues in the APAC region includes the 12,000 capacity Spark Arena in Auckland, the 2,800 capacity Palais Theatre in Melbourne, the 3,000 capacity Fortitude Music Hall in Brisbane, and the soon to be opened Grange Road in Singapore.
Related Articles
21st November 2021 - Brisbane 2032 Olympic legacy factors in Woolloongabba Cross River Rail development
20th October 2021 - Jim Kotsonis named Regional Vice President at Ticketmaster Asia Pacific
13th October 2021 - Vale: Neil Cox
5th October 2021 - Ticketmaster commissions two-part film series promoting Australia's path to the return of live events
22nd July 2021 - Rebuilt Gabba and new Brisbane Live arena the key developments for 2032 Olympic Games hosting
16th July 2021 - Live Nation expands Western Australian operations with acquisition of Mellen Events
23rd May 2021 - Consortium selected to develop and operate new indoor arena in Osaka
14th May 2021 - ASM Global APAC appoints new General Manager at Dubai's Coca-Cola Arena
27th April 2021 - Consortium announced to build new Aichi Arena on Japan's Honshu Island
20th April 2021 - Dubai's Coca-Cola Arena named Venue of the Year at The Middle East Event Awards
27th February 2021 - Live Nation confident of future shows despite major revenue fall
16th October 2020 - Concerts return to Auckland's Spark Arena
21st September 2020 - Live Nation appoints senior leadership roles within its Asia Pacific division
13th August 2020 - Ticket refunds drive down Live Nation revenues
14th July 2020 - Auckland's Spark Arena reopens as live entertainment venue
20th May 2020 - Live Nation to launch socially distanced concerts at Auckland's The Tuning Fork
11th May 2020 - Live Nation says no return to 'full scale' concerts until 2021 as it looks to drive-in events
28th April 2020 - Saudi Arabian investment fund acquires 5.7% stake in Live Nation
20th December 2019 - Live Nation aims for further Asian expansion with acquisition of Malaysia's PR Worldwide
18th September 2019 - Live Nation's Roger Field considers potential of new Gold Coast entertainment arena
5th August 2019 - Fortitude Music Hall opens in Brisbane
22nd July 2019 - Live Nation sets sustainability goals for concerts and live events
2nd March 2019 - Live Nation reveals another record year with 11% rise in global revenues
12th October 2018 - Live Nation enters partnership to develop integrated resort in South Korea
24th September 2018 - Live Nation names new General Manager for Melbourne's Palais Theatre plus funding for 13 community projects
5th September 2018 - Live Nation backs new Brisbane live music venue
8th May 2018 - New leadership roles to drive Live Nation's New Zealand expansion
23rd April 2018 - Live Nation expands festival portfolio with acquisition of Rhythm and Vines Festival
2nd March 2018 - Live Nation registers record revenues through 2017
2nd May 2014 - Live Nation Entertainment assumes sole ownership of Live Nation Japan
24th February 2012 - Live Nation joins with Creativeman to create Live Nation Japan