Golf Australia cancels two Opens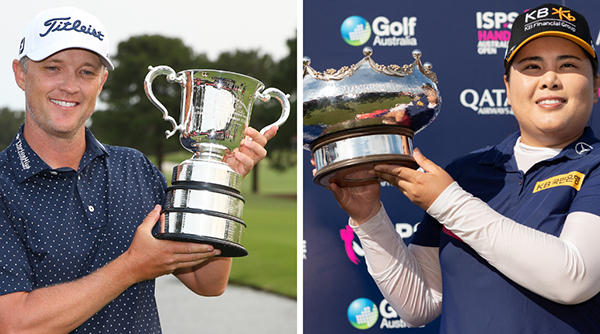 Golf Australia has today announced that the 2021 Men's Australian Open and the 2022 Women's Australian Open have been cancelled as the COVID-19 pandemic and resulting travel restrictions continue to play havoc with international golf in Australia and around the world.
Golf Australia advised that it would begin planning for a return of the two Opens in the 2022-23 summer of golf.
This year's edition of the men's tournament won by the likes of Jack Nicklaus, Gary Player, Peter Thomson and Greg Norman was first scheduled for 25th-28th November at The Australian Golf Club in Sydney, then postponed until early in 2022.
The Women's Australian Open was set for Kooyonga Golf Club in Adelaide in February, 2022.
Golf Australia Chief Executive, James Sutherland notes "the decision has not been made lightly but we believe it to be the right outcome under the current circumstances.
"The international element means shifting quarantine and travel restrictions wreak havoc on planning and, with our marquee players living abroad, the challenge is even greater.
"The pressure and risk on host venues and organisers is also high – these are small businesses who have already faced huge disruption due to the pandemic."
Golf Australia's General Manager Events and Operations, Therese Magdulski, said it became increasingly apparent as the tournament dates loomed that it would not be possible to run them because of the restrictions in place.
Magdulski added that public health concerns and continued uncertainty over travel also played their part as the virus continues to flare around Australia sharing "when we decided back in June that we'd try to get these tournaments to run again, we weren't even dealing with the Delta variant.
"Everything's changed since then, and it can change again. In the end these are incredibly hard decisions and it's terribly disappointing for everyone in the industry, but we've tried hard to make it happen, and it has not come together as we'd like.
"These are marquee events on the golf calendar, and we want to make sure when we bring them to life, they are the best they can be for all involved."
Magdulski said Golf Australia still intended to run the men's and women's Vic Open at 13th Beach on the Bellarine Peninsula from 10th-13th February, albeit without international tour sanctioning.
"We still have some big hoops to jump through to get the Vic Open up, but it's our intention to push ahead," she said.
The 2022 Men's Australian Open will be at Victoria Golf Club in Melbourne in November-December, before returning to The Australian in 2023.
The Australian PGA Championship headlines the ISPS Handa PGA Tour of Australasia schedule, to be played at Royal Queensland from 13th-16th January. The schedule includes not only the PGA Championship but three Webex Players Series events and a range of State PGA Championships and State Opens.
Sutherland advised that Golf Australia, the PGA of Australia and the WPGA Tour are working closely together and remain optimistic about the future of the tournaments as the world opens up and added "while it's disappointing to lose these tournaments for the second year in a row, we'll continue to work together to deliver an exciting schedule of local tournaments across the summer."
Image courtesy PGA
Related Articles
12th October 2021 - Nine million Australians interested in Golf suggests huge potential to grow the game
22nd September 2021 - Vietnam's Laguna Golf Lang Co reaffirms its status as one of Asia's most sustainable clubs 
21st September 2021 - Golf Australia welcomes announcement on reopening of Melbourne courses
17th September 2021 - Australian Golf Foundation continues its Junior Girls Scholarship program for a second year
16th September 2021 - Golf New Zealand supports inaugural Leadership Award for women
8th September 2021 - Two Melbourne golf courses introduce vaccination policy
10th August 2021 - Golf industry veteran looks to grow the game in new role
18th July 2021 - Royal Queensland Golf Club confirmed as chosen host venue if Brisbane secures 2032 Olympics
12th July 2021 - Outback Queensland Masters attracts record number of amateur golfers
29th June 2021 - Golf Australia confirms Australian Open will be played in Sydney in 2021
9th June 2021 - PGA of Australia and Golf Australia develop new pathway for elite amateurs
13th May 2021 - Minjee Lee becomes first 'graduate' to help fund Golf Australia performance pathway
21st April 2021 - Golf Australia releases new Handicap App
13th March 2021 - Golf Australia highlight golf's summer boom
24th February 2021 - SPORTFIVE launches new global golf strategy
23rd February 2021 - James Sutherland calls for 'need to protect' public golf
12th February 2021 - Junior girls to develop golfing skills with scholarship support
16th December 2020 - Golf Australia announces major partnership with Apia