Australian technology helps reduce indoor airborne transmission of COVID-19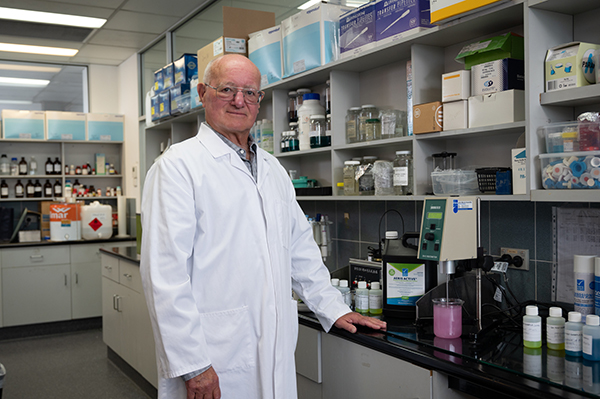 Australian company - Aeris Environmental - has developed patented air filter treatment technology which is now being used around the world to curb the spread of COVID-19 in indoor venues, including public transport.
While Australians look forward to returning to pubs, clubs, schools and offices, Australian scientists have developed this new technology to offer an added layer of protection against COVID-19 spreading through the air.
Steven Kritzler, Technical Director at Aeris Environmental advises "Aeris' air filter treatment is sprayed onto deep bed HVAC filters. This helps prevent microbial pathogens from passing through the system, and spreading to other areas of the building or indoor space.
"The best solution of all is to install HEPA filters with treated deep bed filters being used as a prefilter.
"The Aeris filter treatment can be applied now to most existing deep bed HVAC filters in commercial buildings, schools, retail centres and various indoor venues. Particularly with the more virulent Delta variant still circulating in the community, treating air filters is a readily actionable mitigation strategy that can be done now in preparation for the reopening of indoor spaces, to provide an extra form of protection for workers and the community."
The filter treatment coats deep bed HVAC filters with an antimicrobial coating. The treatment contains a safe, readily biodegradable active biocide that kills 99.99% of bacteria and enveloped viruses including SARS-CoV-2.
Recently, more than 230 scientists from 32 countries wrote an open letter to the World Health Organisation (WHO) about the risks of airborne transmission of the SARS-CoV-2 virus in indoor settings.
There is mounting evidence of the risk of SARS-CoV-2 spreading through the air. Australian led research discusses the potential for exposure to viruses by inhaling microdroplets when sharing indoor environments. A study in China also points to airborne transmission playing a role in spreading the SARS-CoV-2 virus among 59 bus passengers.
A leading Environmental Mycologist, Dr Heike Neumeister-Kemp, says that action should be taken now to mitigate the risks of airborne spread to support Australia's safe reopening.
Dr Neumeister-Kemp advises "Heating, ventilation, and air conditioning systems (HVAC) are one of the major pathways to spread contaminants. Air passes through air conditioning systems and over time particles and unwanted contaminants accumulate in the system and the only thing that protects us is the filters.
"As people go back to work to buildings via buses and trains, there will be an increase in particulates such as dust and other contaminants circulating through the filtration systems. Treating and cleaning filters will ensure that the air that goes through HVAC systems and that we breathe, stays clean."
The Milwaukee County Transit System (MCTS) in the United States has sprayed the air filters of its fleet of 350 buses with Aeris Guard Bioactive Filter Treatment to help protect the vulnerable in the community from catching COVID-19.
MCTS Director of Marketing and Communications Kristina Hoffman notes "since the start of the pandemic, MCTS has worked tirelessly to keep passengers and employees safe while still offering essential transit services that the community depends on.
"This innovative air filter treatment is the latest tool we're using to help give our customers and staff peace of mind – especially as we wait for more and more people to become fully vaccinated."
In Australia, over 7.8 million Australians use public transport, with bus travel the most popular form of transport for 5.15 million people.
Shane Slade is a 26-year-old essential worker who relies on a bus and train to get to work. He admits he has concerns about catching COVID-19 when travelling on public transport.
Slade explained "I spend around an hour or so twice a day on public transport to catch a bus from Inner West to Central station and then a train to my work in Georges River. I do worry about catching COVID-19 because if I get infected then it means I can't work which would be a big hit for me.
"On the bus and train, you share the space with other people for quite a while. When we reopen, it's likely that more people will start using public transport again, so I do feel that there is a risk to passengers, particularly while there are high cases in the community."
Aeris Guard Bioactive Filter Treatment is part of Aeris' COVID-19 Defence product line which includes anti-microbial and virucidal applications for ventilation systems.
For more on Aeris Environmental go to aeris.com.au/
Image: Steven Kritzler, Technical Director at Aeris Environmental
Related Articles
5th October 2021 - Quayclean says cleaning industry needs Student Visa hours parity
6th September 2021 - Need Wipes offer biodegradable cleaning product for fitness centres across Australia
3rd June 2021 - Quayclean Australia highlight changes to student working visas are harming cleaning industry
24th March 2020 - Coronavirus Update: City of Melbourne 'cleaning blitz', Dreamworld food donations, Gumbuya World and MCA closures - 24th March 2019
23rd March 2020 - Quayclean draws on experience to assist safe and complete cleaning during COVID-19
10th February 2020 - Polytan launches cleaning and maintenance services for Australian athletics tracks
7th October 2019 - Fair Work Ombudsman audits cleaning operations at Optus Stadium
9th September 2019 - Fair Work Ombudsman reveals audit of stadia cleaning contractors
22nd May 2019 - Facilities First named as Bankwest Stadium cleaning services provider
4th March 2019 - Quayclean Australia secures Adelaide Oval cleaning contract
18th November 2018 - Chinese hotels impacted in cleaning scandal
2nd August 2011 - Ceramic tile surfaces reduces need for cleaning agents in aquatic and recreation facilities
14th October 2020 - WTTC recognises Australia's COVID Clean Practicing Business Program
16th June 2020 - ATIC's COVID Clean Program embraced by Tourism Industry